For once a nice weather day took me down into surrey to a new place but one i been meaning to visiting for a long time. Started off by following the heath trail which took me past the lake where there plenty of Red Damselflies around and a few Emperor Dragonflies hunting on the lake, while watching these i had a nive view of a Emerald Damselfly the first one i seen before.
Then carried on to main bog land where there where lots of different Dragonflies with Black-tailed Skimmer, Four-spot Chaser and Broad-boadied Chaser in the highest numbers but while photographing a Black-tailed Skimmer was luck enough for a Keeled Skimmer to appeared next to me. After spending a little bit of time with the beauty carried on along the path where there a hunting Hobby over some of the far bogs watching it picking out dragonflies out the air was a wonderful sight.
Moved further round into the woodland and heathland where there was lots of birdlife with Curlew overhead, Tree pipits calling and Stonechats, woodlark and Great Spotted Woodpeckers feeding there young. On the heathland despite being quite windy were up to 5 Silver-studded Blues in the heathland though only males ones when i went a good end to a cracking day.
Red Damselfly
Close up of Keeled Skimmer
Keeled Skimmer showing the missing balck at the end
Four-spot Chaser




Hobby in flight




Young Woodlark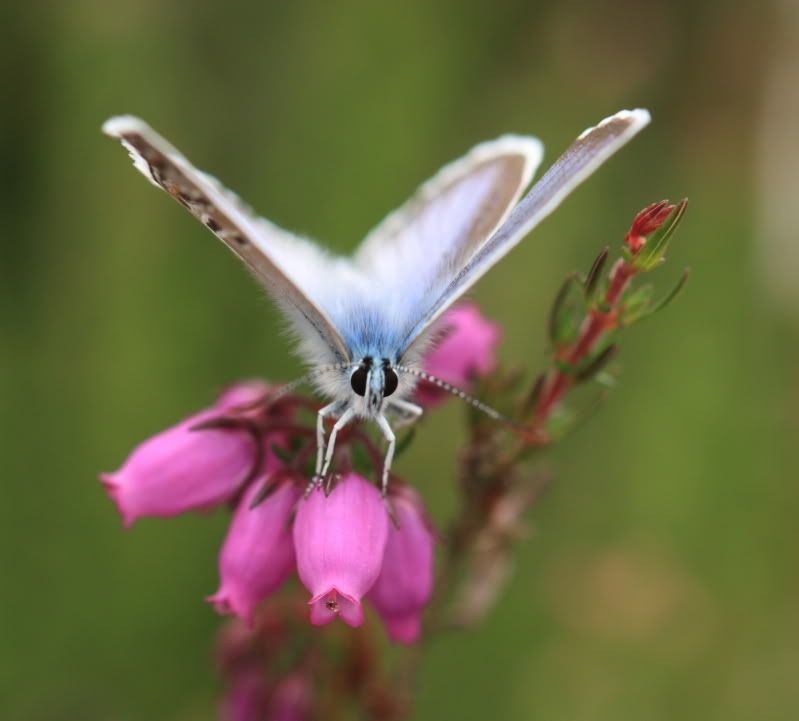 Silver-studded Blue on Heather